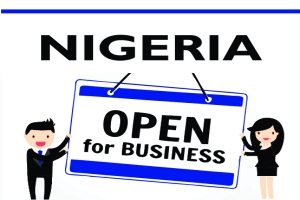 Starting business in Nigeria
STARTING BUSINESS IN NIGERIA OR CONSIDERING EXPANSION

?

HERE'S HOW WE CAN HELP
Doing business in Nigeria

:

the following is a list of tasks that Nigerian and overseas business people doing business or looking to establish or export to Nigeria may need us to handle for them

:
Writing of Expression of Interests

(

EoIs

)

for consulting services and commercial contracts

.

Writing of business plans

.

Conducting due diligence

.

Registration of business with

CAC.

Creation of partnership deed

,

or shareholders' agreement

,

MoUs and joint venture agreements

.

Execution of company secretarial services and documentation of company meetings

.

Execution of corporate searches at

CAC.

Funds raising through the money market or capital market

.

Negotiation of a loan or debt restructuring agreements

.

Professional guidance on compliance issues such as in taxation

, hana, lapaʻau,

pension

,

environment protection

, a pela aku.

Creation of mortgage instrument

.

Recovery of overdue debts

.

Title searches at Lands Registry

.

Structuring a vehicle for asset protection from creditors and frivolous law claims

.

Drafting and perfection of title deeds of real estate transactions

.

Registration and protection of intellectual property

,

including copyrights

, Sila Nui,

trademark

, a pela aku.

Application for Tax Identification Number

,

Tax Clearance Certificates and VAT Identification Number

.

You will need a Tax Identification Number to open a corporate bank account and for tax compliance

.

Review and negotiation of commercial agreements

.

Creation of buy-sell agreements with bespoke terms and conditions

.

Structuring of dispute settlement terms

.

Court representation in law claims

.
The above is not an exhaustive list of legal tasks wherein entrepreneurs

, kānaka hoʻolilo,

importers and overseas investors will require us to handle for them

.
WHY IS GETTING LEGAL HELP SO IMPORTANT

?
Often

,

business people get entangled in issues that are too complex

,

too time-consuming

,

or fraught with legal risks and liabilities

.

A business lawyer can provide vital

legal guidance and assistance

in almost every aspect of your business to enable you to have peace of mind

.

Getting legal help and guidance can protect your commercial venture and save you a lot of money in the long run

.

Without legal guidance

,

you stand vulnerable to attacks from your business partner

(mau),

the government

,

employees

,

customers

,

clients

,

and anyone else

;

and this could become highly disruptive

,

time wasting

,

costly

,

energy sapping and a direct threat to your growth and survival in business

.
Aha kāu e hana e hiki mai ana?
As a business law firm based in Nigeria

,

we will be glad to assist offshore investors

,

foreign companies and exporters to navigate all aspects of immigration

, hui kālepa, loio i, hoʻokonukonu kaʻaeʻana a me ka molowa ole nīnūnē.

Kindly reach us at

+234-803-979-5959 ole +234-818-701-9206;

or email at lexartifexllp@lexatifexllp.com

.
Lex Artifex LLP kaʻIliahi & Waiwai kūʻai Advisory Group
Starting business in Nigeria