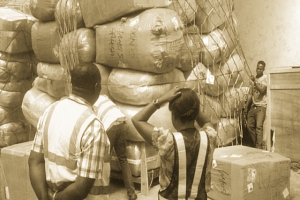 Razminiranje Postupak uvezene hrane, prehrambenih sirovina, i hrane za životinje u Nigeriji
ČIŠĆENJE POSTUPAK uvezene hrane, Prehrambenih sirovina, I hrani za životinje u Nigeriji
Lex Artifex LLP, zakon tvrtka u Nigeriji, F je predstavio&D Helpdesk za pomoć pojedincima i tvrtkama koji su uključeni u proizvodnju, distribucija, izvoz i uvoz regulirana hranu i lijekove proizvoda u ispunjavanju uvjeta postavljenih od strane Nacionalne agencije Nigeriji za hranu i lijekove i kontrolu ("NAFDAC"). Ova publikacija je snimak postupka carinjenja uvezene hrane, prehrambenih sirovina i hrane za životinje u Nigeriji.
General

Ove Smjernice su u interesu javnosti i posebno, uvoznici gotove hrane bulk, hrane sirovine i hrana za životinje u Nigeriji.

Potrebno je naglasiti da, Nema životinje koja će biti proizvedena, uvozni, izvozi, oglašava, prodan, distribuirati ili koristiti u Nigeriji, osim ako je registriran u skladu s odredbama NAFDAC Zakona CAP N1 (LFN) 2004, drugih srodnih zakonodavstvima i prateće smjernice.

Također je potrebno naglasiti da nema gotovih skupno hrane i / ili prehrambenih sirovina trebala biti uvezena bez dobivanja uvozne dozvole.
Korak I
Plaćanje

Podnositelj zahtjeva je dužan izvršiti uplatu propisane tarife.
Korak II
Dokumentacija za First Endorsement

Lex Artifex Odvjetnički ured pruža uvoznika s zastupanja i usklađivanja usluga u Nigeriji.
Sljedeći dokumenti moraju biti potrebni za postupak carinjenja uvezene hrane, prehrambenih sirovina, i hrane za životinje u Nigeriji:

Vrijedi NAFDAC dozvola

Izjava Pojedinačni Roba (SGD) Oblik

Trgovački račun

Najava izvješće o procjeni ( FEW )

oblik M

Teretnica / dišnog Bill

Popis pakiranje

Oblik C-30

Preslik plaćanja savjet

Dokaz o trenutnom registracije proizvoda sa NAFDAC

Originalni primjerak potvrde o analizi

Izvorni primjerak zračenja Analiza Certifikat (za meso & proizvodi od mesa, mlijeko & mliječni proizvodi, riba & riblji proizvodi)

Izvorni primjerak fitosanitarne svjedodžbe (Za proizvode biljnog podrijetla)

Dokaz o potvrdi Zdravlje (Izdaje i potvrđen od strane organa upravljanja u zemlji podrijetla)

Izvorni primjerak CRIA (Čisto Izvješće inspekcije i analize) za proizvode koji dolaze iz Kine.

Pismo poduzetnika da je taj proizvod(a) će se oduzeti ako se utvrdi zadovoljava.
Adresa skladišta u kojima će se proizvod pohranjen.

Dokaz o uplati na račun Agencije.

Pismo uvoda s preslikom osobne iskaznice predstavnika tvrtke.

Lokalno narudžbenice od nositelja dozvole / odobrenja.
Korak III
prvo Potvrda
4.1.Nakon zadovoljavajuće provjere zahtjeva i prateće dokumentacije, Jedinstveni deklaracija roba Forme (SGD) je s obzirom na prvu ovjeru.
korak IV
Zajednički Pregled pošiljke
5.1. Zajednički pregled pošiljke provodi NAFDAC i drugim relevantnim vladinim organizacijama.
korak V
drugo Potvrda
6.1. Predstavnik tvrtke je potrebno ponovno prisutan sve dokumente predstavljene na Prvom Endorsement. To bi trebalo biti popraćeno s izvještajem Zajedničkog inspekcije i uzorak proizvoda (a) u skladu s važećim smjernicama za uzorkovanje Agencije za provjeru.
Step VI
Puštanje pošiljke
7.1. Nakon zadovoljavajuće provjere uzorka dokumenata i proizvoda u svrhu Drugog Endorsement, Singl Roba Izjava forma daje Drugi indosamentom koji je puštanje pošiljke uvozniku.
Tarifa

Tarifa je, kako je propisano.

Važna boda na umu

Uvezeni proizvodi mogu se stavljati na tržište i koristiti nakon zadovoljavajućeg laboratorijskoj obradi samo.

Rokova za različite procese uključuju;

Procjena troškova i izdavanje plaćanja savjet je deset (10) minuta

Issuance of the first endorsement is Thirty

(30) minuta

Fizički pregled kako odredi Zajednički Task Force Two (2) sati

Izdavanje drugog preporuke je petnaest (15) minuta

Imajte na umu da je vremenski okvir za obradu se suspendira kada postoji usklađenost direktiva i nastavlja kad je podnositelj zahtjeva udovoljava i komunicira poštivanje Agenciji.

U slučaju izvješća nezadovoljavajući laboratorijske analize, pošiljka se stavlja na čekanje. To može biti za uništenje ili za daljnja istraživanja koja mogu uključivati ​​retest Agencija i / ili nezavisnog laboratorija.
postupak carinjenja uvezene hrane, prehrambenih sirovina, i hrane za životinje u Nigeriji
O LEX ARTIFEX LLP
Lex Artifex LLP je prozor za proizvođače, izvoznici, i distributera reguliranih hrane i lijekova proizvoda traže licenciranje u Nigeriji i traže pristup Nigerijski tržištu. Mi smo one-stop shop za pravne usklađenosti i due diligence usluge u Nigeriji.
We provide clients with legal guidance through every step of the trade process and beyond

.
Da biste saznali više o lex Artifex LLP-a za hranu & Droga (F&D) Helpdesk i kako vam može pomoći u vrijeme uvezene hrane, prehrambenih sirovina, i hrane za životinje u Nigeriji, molimo pošaljite email: lexartifexllp@lexartifexllp.com; poziv +234.803.979.5959.