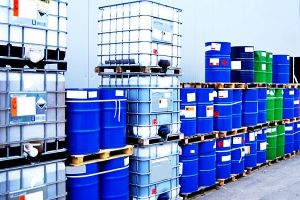 How to export industrial and laboratory chemicals to Nigeria
HOW TO EXPORT INDUSTRIAL AND LABORATORY CHEMICALS TO NIGERIA
The Lex Artifex Law Office has introduced the Food

& դեղ (F&D)

Helpdesk to assist companies involved in the manufacturing

, բաշխում, արտահանում,

and importation of regulated food and drugs in meeting the requirements set by Nigeria's National Agency for Food and Drug Administration and Control

(

"NAFDAC"

).

This publication gives a snapshot of how to export industrial and laboratory chemicals to Nigeria

.
As a key requirement to obtaining the license
from NAFDAC for the exportation of industrial and laboratory chemicals from overseas into Nigeria

,

an applicant is required to have a NAFDAC import permit valid in the same year of application

.
STEP

1
The following documents are required

:
1.
Complete detail of the chemicals

,

the quantities and the type of use intended for the chemicals

.
2.
A valid NAFDAC import permit for chemical items

.
3.
A valid NAFDAC import permit for chemical items indicating quantities of the chemicals imported as endorsed by the Ports Inspection Directorate of NAFDAC

(

for additional quantities

).
4.
Utilization records of previously imported industrial and laboratory chemicals indicating quantity utilized

,

sold or disposed and the balance

;

Evidence of sales such as invoice

,

receipts

,

delivery notes/ waybills

(

applicable for additional quantities

).
5.
Companies manufacturing NAFDAC regulated products must produce evidence of registration of all their products with the Agency or evidence of commencement of registration

(

if new manufacturer

).
6.
Companies importing consumable chemical products that do not undergo further processing

(օրինակ.

Brake Fluid

,

Car Care products

,

paints

,

sealant

, եւ այլն:)

must produce a certificate of manufacture and free sale issued by the regulatory authority in the country of origin

.
7.
A list in tabular form containing names of chemicals with compositions in bracket

,

Commodity Codes/Harmonized System

(

HS

)

codes

,

and quantities requested

.
8.
Material Safety Data Sheets

(

MSDS

)

for each new chemical from the overseas manufacturer

(

only applicable to applicants requesting for new items

).

MSDS should contain the following information

:
8.1
The identity of the product and the company
8.2
Composition and information on ingredients
8.3
Hazardous identification
8.4
First aid measures
8.5
Firefighting measures
8.6
Accidental release measures
8.7
Handling and storage
8.8
Exposure control/ personal protection measures
8.9
Physical and chemical properties
8.10
Stability and reactivity
8.11
Toxicological information
8.12.
Ecological information
8.13.
Disposal consideration
8.14.
Transport Information
8.15.
Regulatory information
8.15.
Regulatory information
9.
It is to be emphasized that specific chemical names of the items required must be given and it must be same as stated on the MSDS

.

General name or physical description of the chemicals

, օրինակ.

foaming agent

,

low density chemicals

,

industrial gases

,

water softeners

, եւ այլն.

will not be accepted

.
10.
Companies applying for chemicals that require approval from other government regulatory authorities should attach such letter of approval

.

E.g

.

chemicals used for explosives from Ministry of Mines and Steel Development etc

.
STEP II
Processing of Permit
After submission of application

,

the applicant will receive an acknowledgment from NAFDAC

.

Lex Artifex LLP will update the applicant on the progress of their application at regular intervals

.

The applicant shall be required to pay the prescribed fees and professional fees

.
STEP III
Issuance of Permit
Upon the approval of the Permit by NAFDAC

,

the applicant shall receive the Permit

.
IMPORTANT NOTICE
Personnel

:

A technical officer with scientific background with a minimum qualification of Ordinary National Diploma

;

OND or its equivalent shall be needed by NAFDAC for the purpose of explaining and discussing the exact chemical nature and use of the items for which application is submitted

.

The technical officer shall also be responsible for the handling and storage of the chemicals

.
Timeline

:

A processing period of fifteen

(15)

business days from the time of submission of application is required for the completion of the application

. սակայն,

the

15

days timeline shall be discountenanced where there is a compliance directive from NAFDAC

,

shall resume when applicant complies and communicate compliance to the NAFDAC

.
It is an offence for any company to import chemicals from overseas into Nigeria without a Chemical Import Permit

.

The Permit granted is an authorization for the applicant to import and should

,

therefore

,

be obtained before an order is placed or shipped into Nigeria

.

Additional Permits are issued for new items

,

not in the current permit or additional quantities for items in current permit

.

All documents must be in the English language

.
NEXT STEP

?
The foregoing provides only an overview and does not in anyway constitute a legal advice

.

Readers are advised to obtain specific professional guidance

.
ՄԵՐ ՄԱՍԻՆ LEX նկարիչ LLP
Lex Artifex LLP is the window for manufacturers

, արտահանողները,

and distributors of regulated food and drug products seeking licensing in Nigeria and seeking access to the Nigerian market

.

We are a one-stop shop for

իրավական համապատասխանության եւ պատշաճ ջանասիրություն ծառայություններ Նիգերիա.

We provide clients with legal guidance through every step of the trade process and beyond

.
Ավելին իմանալ այն մասին, որ Lex նկարիչ LLP ի Պարենի & դեղ (F&D) Տեղեկատվական եւ թե ինչպես մենք կարող ենք առաջարկել ներկայացուցչություն ձեզ Նիգերիայում, խնդրում ենք գրել: lexartifexllp@lexartifexllp.com; կոչ +234.803.979.5959.