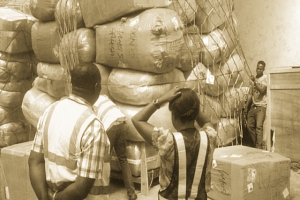 Procedura de lichidare a produselor alimentare importate, materii prime alimentare, și hrana pentru animale în Nigeria
PROCEDURA DE LICHIDARE IMPORTATE ALIMENTARE, Materii prime alimentare, Și nutrețuri pentru animale în Nigeria
Lex Artifex LLP, firma de avocatura din Nigeria, a introdus F&D Helpdesk pentru a ajuta persoanele fizice și companiile implicate în procesul de fabricație, distribuire, exportul și importul de produse alimentare și farmaceutice reglementate în îndeplinirea cerințelor stabilite de Agenția Națională Nigeriei pentru Food and Drug Administration și Control ("NAFDAC"). Această publicație este un instantaneu al procedurii de autorizare a produselor alimentare importate, materii prime alimentare și hrana pentru animale în Nigeria.
General

Aceste orientări sunt pentru interesul publicului larg și, în special,, importatorii de produse alimentare în vrac finite, materii prime alimentare și hrana pentru animale în Nigeria.

Este necesar să se sublinieze că, nici hrana animalelor trebuie să fie fabricate, importate, exportate, publicitate, vândut, distribuite sau utilizate în Nigeria, cu excepția cazului în care a fost înregistrată în conformitate cu prevederile Legii NAFDAC PAC N1 (LFN) 2004, alte legis conexe și liniile directoare de însoțire.

De asemenea, este necesar să se sublinieze că nici produse alimentare în vrac și / sau materii prime alimentare finite trebuie să fie importate fără a obține permis de import.
Etapa I
Plată

Solicitantul este obligat să facă plata tarifului prevăzut.
Etapa a II-
Documentația pentru primul gir

Lex Law Office Artifex prevede importatori cu servicii de reprezentare și conformarea legală în Nigeria.
Următoarele documente sunt necesare pentru procedura de autorizare a produselor alimentare importate, materii prime alimentare, și hrana pentru animale în Nigeria:

Permis NAFDAC Valid

Single Produse Declarație (SGD) Formă

Factură comercială

Pre-sosire Raport de evaluare ( FEW )

Forma M

Conosament / Airway Bill

Lista de impachetat

Forma C-30

Fotocopie de consiliere de plată

Dovada de înregistrare a produsului curent cu NAFDAC

exemplarul original al certificatului de analiză

copie originală a certificatului Analiza radiațiilor (pentru carne & produse din carne, lapte & produse lactate, peşte & produse din pește)

copie originală a certificatului fitosanitar (Pentru produsele de origine vegetală)

Dovada de certificat de sănătate (Eliberat și aprobat de către autoritatea de control în țara de origine)

copie originală a cria (Raport curat de inspecție și analiză) pentru produsele care provin din China.

O scrisoare de angajament care să ateste că produsul(s) vor fi pierdute dacă este găsit nesatisfăcătoare.
Adresa de depozit în cazul în care produsul va fi depozitat.

Dovada de plată a agenției.

Scrisoare de introducere cu o copie a actului de identitate al reprezentantului de companie.

Local comandă de achiziție de la titularii de permis / aprobare.
Etapa III
Primul Avizare
4.1.La verificare satisfăcătoare a cererii și a documentelor însoțitoare, Declarația unică Produse Formulare (SGD) este dat primul gir.
Etapa IV
Inspecția în comun a Custodie
5.1. Inspecția comună a lotului este efectuată de către NAFDAC și alte organizații guvernamentale relevante.
Etapa V
În al doilea rând Avizare
6.1. Reprezentantul companiei este obligat să re-prezent toate documentele prezentate pentru primul gir. Acest lucru ar trebui să fie însoțită de raportul inspecției comune și a eșantionului de produs (s) în conformitate cu orientarea de prelevare a probelor aplicabile agenției pentru verificare.
etapa VI
Eliberarea de transport
7.1. După verificarea satisfăcătoare a eșantionului și documente produs în scopul de a doua Avizare, Single-ul Marfa Declarația formular este dat a doua, care este de Avizare eliberarea lotului către importator.
Tarifar

Tariful este cea prescrisă.

PUNCTE IMPORTANTE PENTRU NOTĂ

Produsele importate pot fi comercializate și utilizate în urma unei evaluări de laborator satisfăcătoare numai.

Termenele pentru diferitele procese includ;

Evaluarea costurilor și emiterea avizelor de plată este de zece (10) minute

Issuance of the first endorsement is Thirty

(30) minute

inspecție fizică stabilită de Joint Task Force este Două (2) ore

Eliberarea celei de a doua girul este de cincisprezece (15) minute

Rețineți că calendarul de procesare este suspendată atunci când există o directivă de conformitate și reia atunci când solicitantul respectă și comunică conformitatea agenției.

În cazul raportului de analiză de laborator nesatisfăcătoare, lotul este pus în așteptare. Acest lucru poate fi pentru distrugere sau pentru investigații suplimentare care pot include retestare de către agenție și / sau laborator independent.
Procedura de lichidare a produselor alimentare importate, materii prime alimentare, și hrana pentru animale în Nigeria
DESPRE LEX ARTIFEX LLP
Lex Artifex LLP este fereastra pentru producători, exportatori, și distribuitorii de produse alimentare și de droguri produse reglementate care solicită acordarea de licențe în Nigeria și care doresc accesul la piața nigerian. Suntem un ghișeu unic pentru Servicii de conformitate și de due diligence legale în Nigeria.
We provide clients with legal guidance through every step of the trade process and beyond

.
Pentru a afla mai multe despre mâncarea Lex Artifex LLP & Medicament (F&D) Helpdesk și modul în care vă putem ajuta cu clearance-ul produselor alimentare importate, materii prime alimentare, și hrana pentru animale în Nigeria, te rog e-mail: lexartifexllp@lexartifexllp.com; apel +234.803.979.5959.