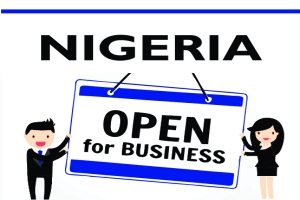 Starting business in Nigeria
STARTING BUSINESS IN NIGERIA OR CONSIDERING EXPANSION

? 呢度係我哋點樣幫助
在尼日利亞做生意: 以下係尼日利亞同海外商人做生意或希望建立或出口到尼日利亞可能需要我哋為佢哋處理的任務清單:
利益表達的寫作 (EoIs) 用于諮詢服務和商業合同.

寫商業計劃.

進行盡職調查.

與企業註冊 Cac.

合夥契約的創建, 或股東協議, 諒解備忘錄和合資協議.

Execution of company secretarial services and documentation of company meetings

.

Execution of corporate searches at

Cac.

Funds raising through the money market or capital market

.

Negotiation of a loan or debt restructuring agreements

.

Professional guidance on compliance issues such as in taxation

, 就業, 保險,

pension

,

environment protection

, 等.

Creation of mortgage instrument

.

Recovery of overdue debts

.

Title searches at Lands Registry

.

Structuring a vehicle for asset protection from creditors and frivolous law claims

.

Drafting and perfection of title deeds of real estate transactions

.

Registration and protection of intellectual property

,

including copyrights

, 專利,

trademark

, 等.

Application for Tax Identification Number

,

Tax Clearance Certificates and VAT Identification Number

.

You will need a Tax Identification Number to open a corporate bank account and for tax compliance

.

Review and negotiation of commercial agreements

.

Creation of buy-sell agreements with bespoke terms and conditions

.

Structuring of dispute settlement terms

.

Court representation in law claims

.
The above is not an exhaustive list of legal tasks wherein entrepreneurs

, 出口商,

importers and overseas investors will require us to handle for them

.
WHY IS GETTING LEGAL HELP SO IMPORTANT

?
經常, 商務人士捲入了過於複雜嘅問題, 耗時過頭了, 或充滿法律風險和責任.
A business lawyer can provide vital

legal guidance and assistance

in almost every aspect of your business to enable you to have peace of mind

. 獲得法律幫助和指導可以保護你既商業冒險, 從長遠來看可以為你慳好多錢. 冇法律指導, 你很容易受到你既商業夥伴的攻擊(s),

the government

,

employees

,

customers

,

clients

,

and anyone else

;

and this could become highly disruptive

, 時間浪費,

costly

,

energy sapping and a direct threat to your growth and survival in business

.
跟住要做咩?
As a business law firm based in Nigeria

,

we will be glad to assist offshore investors

,

foreign companies and exporters to navigate all aspects of immigration

, 企業, 法律, 法規遵從性和盡職調查問題.

Kindly reach us at

+234-803-979-5959 或 +234-818-701-9206;

or email at lexartifexllp@lexatifexllp.com

.
lex artifex llp & #8217; 的貿易 & 投資諮詢小組
Starting business in Nigeria